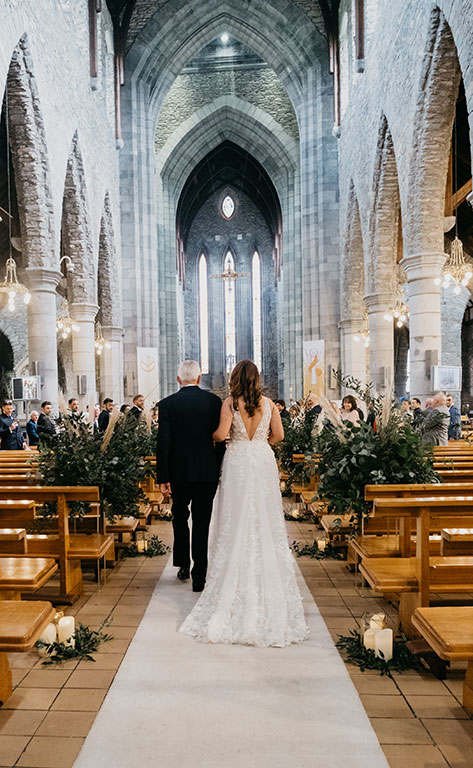 Danielle is an absolute professional at what she does! From the minute we booked her for our wedding I knew we were in good hands! She's so thorough with all the details & I felt goes above and beyond any other florist! Our church was just amazing, it was better than I ever imagined! She even saved the day when I had a dress malfunction which I'll forever be grateful for! Thank you so much, Danielle! It was an absolute pleasure to work with you xx
We had our wedding last weekend in Adare at the Dunraven arms, and we had Danielle and her team do our flowers. We couldn't have been happier. The room looked amazing, as did all bridal bouquets and buttonholes. We had an hour-long consultation with Danielle a month before the wedding and she was so easy and professional to deal with. We would highly recommend them to anyone planning a wedding in the area you won't do better! She totally exceeded our expectations, we were thrilled. 
Tie the Knot Weddings is truly deserving of five stars. From my first meeting with Danielle I knew that our wedding flowers would be in capable hands with her for our wedding. She is extremely professional, passionate and above all talented at what she does. She provided us with colour ideas, advice and a top class service. I loved all of our flowers, I couldn't stop admiring them and I'm so glad I trusted Danielle and her team when it came to the bouquet creations. I wholeheartedly recommend Tie The Knot Weddings.
Danielle has you covered from flowers to décor, to flower walls. She really has everything that you would need to make your wedding venue look beautiful and unique. She really was able to understand our vision and brought that to life. We found dealing with one person for flowers and all our décor pieces so beneficial when planning from abroad. Danielle was so accessible through Skype calls too. She has a beautiful show room where you can choose what items you like. 
Huge thank you to Danielle and her team at tie the knot. As a bride traveling to Ireland from the United States I was extremely worried about the flowers and decor turning out. We could not have selected a better florist and decorator!! They created everything exactly as we had imagined it to be and so so so much more!! Thank you so much for making our day truly a dream come true. Danielle is brilliant in all she and her team creates and she was such a pleasure to work with!! We are forever thankful to you.
What can I say about this team… Danielle when the doors of the church opened in Brosna Friday I was blown away by the result just stunning. A lot of people commented on how beautiful it was and who was responsible for it. You and the gang did an amazing job from start to finish and made it very relaxed and easy in the process, thanks a mill xx
My daughter Emma got married in Abbeyfeale ten days ago, Danielle at Tie the knot weddings supplied all of the bouquets, buttonholes and two beautiful corsages for the two mothers, each and every one of them were perfect and fabulous. I have never seen the church looking more stunning in my life, with the cherry blossoms, lanterns, candles, and the old bike outside it was just magnificent. I would highly recommend tie the knot weddings to anyone getting married, Danielle is an expert at what she does and without any fuss or drama, don't hesitate to give her a shout.
A fantastic experience from the start! Thank you so much to Danielle and her team for the wonderful floral arrangements they put together for my wedding. She understood exactly what my vision was and crafted beautiful, wild bouquets, centerpieces, hairpiece and an arch. I would absolutely recommend!
I just want to say a MASSIVE thank you to Danielle, her mom and her team who went over and beyond for us on our wedding day in December. From the second we met Danielle for our consultation at the shop in Abbeyfeale, i knew i was the hands of a true professional. She has a fantastic eye and a fabulous manner that just puts you at ease straight away. I came to her with a few ideas but what she created for us was beyond our wildest dreams. The church in Rockchapel was like a winter wonderland. My bouquet and the girls bouquets complimented our dresses to perfection as Danielle knew the exact colour palette to use. She also created the most beautiful arrangement for our table plan at our reception.
I cannot recommend Danielle and Tie The Knot Weddings enough. She is the absolute best at what she does and will make all your dreams come true.
A million thank yous
Danielle, a massive and heartfelt THANK YOU to you, your mum and your entire team for an outstanding job on our flowers for our wedding day!
From my bouquet to the flowers in the hairs of the girls, from the chair arrangements for the ceremony to the milk bottles on the dinner tables… it was like you reached into my head and made all my ideas become a beautiful wildflower reality!!
You're a pleasure to work with and I would recommend you to any future brides to be! Lots of love, Eliane.
There was more pictures on Snapchat of my flowers with people saying "wow" "amazing" than there was of me the bride. People are still talking about the church. Danielle is an absolute dream to deal with. I knew from the first meeting that I could leave it all in her very capable hands. The morning of my wedding the first tears came when Danielle arrived it my flowers, I was blown away with the shear beauty of them but also that she done exactly what I wanted and more. You were worth every penny and more Danielle. There wasn't a thing I could fault. Thank you so much. I wish you continued success. X
Without a doubt one of my favourite parts of my wedding was seeing my bouquet! And it was amazing, all thanks to Danielle and the team at tie the knot! My flowers were perfect and I received an exceptional service from the guys! Would book you again in the morning if I could!! X
Thank you so much Danielle and the Team at Tie the Knot weddings for our incredible Flowers and decor on August 10, 2018! I cannot being to say thank you enough – I planned my entire wedding from NYC and Danielle was so easy to get in contact with via Skype. She had incredible recommendations and took my vision and made it even better than I could have imagined! She and the team were so organized, she was the easiest "pre-wedding" confirmation call the night before! Our bouquets were stunning and really brought my vision of a romatic, soft wedding to life. The Cathedral in Killarney also looked so incredibly gorgeous with the white carpet, the flowers, and candles down the aisle! I knew I had wanted Tie the Knot when I saw their Cathedral arch floral work, and the incredible Arch Danielle put together moved me to tears, it was better than I ever imagined! Plus, our flowers lasted all day. The team is also very discreet in set up and taking everything down. I highly recommend Tie the Knot!
Niamh OCathain
2023-01-10
Danielle and her team at Tie The Knot Weddings are absolutely incredible. They were a pleasure to work with. The service they provide is excellent. Our wedding flowers were perfect and we got so many compliments on them. Thanks again to all the team!
We had tie the knot for our wedding day in 2021. Danielle and the team did an outstanding job and went above and beyond! An absolute pleasure to deal with.
Absolute pleasure to work Danielle and company. We had the best experience and the most amazing wedding flowers!! Thank you for everything!!!!
Geraldine Murray
2023-01-10
If I could give more stars I would!! We got Married in a storm in June in Killarney and Danielle and her team could not have done enough for us on our day! Everyone commented on the amazing floral bouquets and also on every detail in the cathedral and hotel decor!They did such an amazing!This team is just beyond talented!! Also a special mention to all the girls who ran out with umbrellas and held up my dress to help me as I got in and out of the car in the rain!Danielle and the team are just top class in every way!!
Orla O'Carroll
2023-01-10
Danielle and the whole team at Tie the Knot Weddings are just beyond words. We had the most beautiful wedding flowers in June 2022 and everyone commented on how much they suited the bridal party and venue! The process was insanely easy, Danielle is a true expert in her field and turned my vague Instagram-informed musings into the most wonderful selection and brought to life what I didn't even know I wanted. Couldn't recommend more highly, and so reasonable too! Definitely choose this company for your wedding flowers.
Amazing service!!!! Got married Dec 2019 and sent Danielle a picture of flowers I liked from Google and they were the exact picture even better in person. They dropped to house the morning of wedding and we're all labelled ready and waiting for us. Would highly recommend if your getting married!!!!
Tie the Knot created the most amazing floral arrangements for our wedding venue. Danielle understood exactly what I liked and delivered that and more just from one call. Their work is incredible and I will be recommending them to everyone.
Danielle & team are an absolute class act, a seamless operation, totally stress free for the bride and with incredible vision and creativity. They gave me the Killarney Cathedral of dreams on the warmest July day and I would recommend Tie The knot 100%, 5 stars here!!
We absolutely loved our flowers for our wedding day. They were absolutely beautiful. Thank you so much for everything.
Jessica Pearce
2022-07-11
Danielle and her team provided the flowers and decor for our wedding recently, and it was the most beautiful design. She created the most stunning archway for our ceremony which we then used again to frame our cake at the reception. The colours and flowers she used were a perfect combination. Danielle was so easy to work with from start to finish and I highly recommend her and her team! You will not be disappointed!