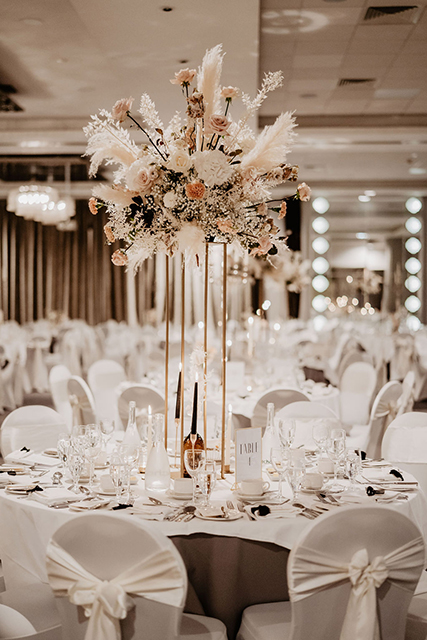 HOW MUCH ARE WEDDING FLOWERS?
There is no set answer to this. Price of wedding flowers and decor depends on lots of factors, total number of bridal party, sizes of arrangements, flower type, the size of church/venue to be decorated, what is already included in your venue package, what you would like to reuse after? We will try to work within whatever budget you have. A list of our approx prices and packages is available on the website. Most of our weddings start from €2,000 with average being anything from €2-4k++.
WHAT DO YOU OFFER?
We offer a full Wedding Floral and Decor Service providing;
Bridal Flowers – Bouquets, Buttonholes, Flowers Girl's Florals, Fresh floral hair crowns
Church/Ceremony Flowers and Decor including fresh flower arrangements, Floral Arches, Red and Ivory Carpet, Welcome Signs, Candles and lots and lots of rentals and extras.
Venue Flowers and Decor including fresh floral arrangements and centrepieces, a selection of hired glassware for tables, large cherry blossom and tree centrepieces, hired floral domes and glass, fairylight backdrops, LOVE Letters, Flower Walls, Wedding Card Post box and lots more. We also offer our own Chiavari Chair Rental and Table Cloths
WHAT HAPPENS ON THE DATE OF MY WEDDING?
On the day of the wedding we deliver our bridal flowers to you that morning, set up the church/venue and then after the wedding is over, our team returns for breakdown and collection.
CAN I REUSE FLOWERS FROM THE CHURCH FOR MY WEDDING?
Absolutely and we recommend this. Make the most of what you spend. All fresh items belong to you and if you have a church wedding it's a great idea to get someone at the wedding to take these to the hotel for use at your reception. All hired items will be removed by us after the ceremony. If you are having alot of items we can transfer everything to the hotel for you however there will be a transfer fee for this service.
HOW LONG HAVE YOU BEEN IN BUSINESS?
We have been in business for over 34 years! And we are not going anywhere! This is a very important factor when booking a supplier for your big day as you need to make sure they are reliable and have the experience to be trusted with the biggest day of your life. We dont work from home, we have a super busy daily flower shop, which means that we always have plenty of fresh flowers in stock if you require anything last minute.
WHERE ARE YOU BASED AND HOW FAR DO YOU TRAVEL?
Our store and wedding consultation room is based in Abbeyfeale, Co Limerick on the border of Kerry. The church is across the road from us and we are next door to Spar. You can't miss us!
We cover most of Limerick and Kerry with some parts of North Cork. We work with most venues and churches in these areas and are typically on 1st name terms with most Wedding Co-ordinators and Church Sacristans. We do lots of work also in Adare and Killarney. We have often thought many a time of putting a blow-up mattress in the Cathedral in Killarney and just staying there!! 😉
WHEN DO I NEED TO MEET YOU TO PICK OUT WHAT I WANT?
We arrange full phone/zoom consultation when you are fully booked with us. This typically lasts less than an hour and can be arranged from 4 months to 6 weeks before the wedding and when all dresses, suits etc are purchased and you have had a chance to pull together some ideas. We will arrange the consultation via Skype/Phone on weekdays and some late evenings(We are not here weekends due to wedding commitments). Since Covid we have been doing the consultations this way and they are working extremely well as they are faster.
I LIVE ABROAD. I WON/T GET TO MEET YOU HOW WILL I ARRANGE MY FLOWERS FROM SUCH A LONG DISTANCE, I'M A LITTLE CONCERNED?
Nothing to be worried about. We have soooo many couples nowadays whom we never get to meet. We will get you to forward all your ideas in advance of our consultation and then we will schedule a detailed Skype or Facetime call to sort. After the call we will email you a full detailed brief and costing of everything for the big day.
DO I NEED TO MAKE AN APOINTMENT TO MEET YOU OR CAN I JUST POP IN?
Thankfully we are kept busy all year round so ALL wedding appointments or chats have to be booked in in advance so as to allocate undivided and uninterrupted time to go through everything.
I'M HOPELESS WITH NAMES OF FLOWERS AND WHAT'S IN SEASON, NOT A CLUE!!
That's what we are here for. Dont stress about it. Once you have an few photos of bouquets you like and dresses picked we can discuss all this with you.
YOU GUYS SOUND ABSOLUTELY AMAZING AND PERFECT FOR ME, HOW DO I BOOK?
Awh shucks, thanks! The booking fee our services for the day is €100. Full payment details will be sent to you via email.